WELCOME TO SAKURA CITY
GREETING FROM THE MAYOR
Welcome to Sakura City!
Sakura is a livable city, where you can enjoy rich nature including Imbanuma Lake and at the same time, urban convenience with good transportation network. Its western district is a commuter town for the metropolitan area, and the southern district is a suburban agricultural area and also the prefecture's leading industrial park.
In addition, Sakura was certified first in Chiba Prefecture as Japanese heritage under the title "Edo tour in Hokuso 4 cities - the Hokuso townscapes where you can feel Edo." The town prospered as a base of Hokuso from the old days and was the largest castle town in the prefecture. Even now you can catch a glimpse of the daily life of those days which conveys the shadow of the castle town. The ruins of Sakura Castle, the only castle in Chiba Prefecture that has been selected as one of the 100 notable Japanese castles, are now maintained as Castle Site Park which provides a space of relaxation for many citizens.
From the end of Edo era to Meiji era, under the enterprising spirit and intellectual thirst, Sakura produced many great men who built the foundation of modernization of Japan in various fields. And now Sakura became a town where talents bloom to create artists and athletes.
Sakura is a town where seasonal flowers that bloom throughout the year welcomes you. A town where you can enjoy events which enrich citizens' daily life such as fireworks show and autumn festival. A town where you can enjoy culture. There are several art museums as well as a concert hall.
Although the things we can introduce here are only a few of Sakura that the citizens love, I hope this guide will be the starter for you to know and enjoy Sakura of "Good to Visit and Good to Live in."
Sango Nishita, Mayor of Sakura City
PROFILE OF SAKURA CITY
Sakura is a city located in the central part of the Hokusoh Plateau in the northern part of Chiba Prefecture. It is situated 40 kilometers from metropolitan Tokyo, 15 kilometers west of Tokyo International Airport of Narita, 20 kilometers northeast of Chiba City, the seat of the prefectural government. The northern part of the city is bounded by the vast Imba Marsh.
Sakura has a total land area of 103.69 square kilometers. Geographically, it is a plateau to the south of Imba Marsh. It has three rivers which flow into the marsh. Located at 30 meters above sea level, its water level increases southwards.
The climate is relatively temperate, with an average annual temperature of approximately 15 degrees Centigrade. Abundant natural beauty still remains around Imba Marsh and in the site of the former Sakura Castle, as well as in the agricultural area of the eastern and southern part of the city.
The Keisei Line and JR Sohbu Line run through Sakura east and west. It takes approximately 60 minutes to Tokyo and 20 minutes to Chiba City or to Tokyo International Airport of Narita. To serve residents of outlying areas, there is a local monorail called Yukari-ga-oka Line and buses plying between train stations and residential areas in the city. The Higashi Kantoh Jidoh'sha-doh (a national expressway) and Route 51link Sakura to Tokyo and Narita in addition to Route 296 which serves as a vital community road for citizens.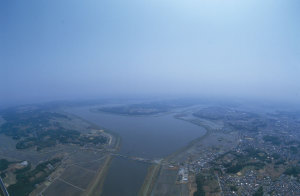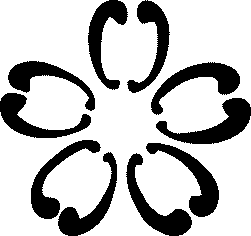 LOCATION
Sakura City is located in the northern part of Chiba Prefecture, 40km east of Tokyo, and 15km west of Narita International Airport.
Northern 140°13' 35°46'
Southern 140°15' 35°38'
Eastern 140°18' 35°42'
Western 140°07' 35°44'
Land Area 103.69 square kilometer
Urbanization promotion Area 24.09 square kilometer
Urbanization control Area 79.50 square kilometer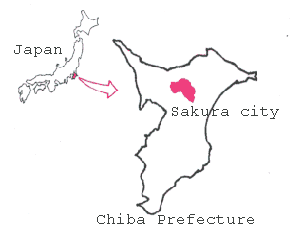 SAKURA CITY HALL
97 Kairinji-machi, Sakura City, Chiba Prefecture 285-8501, Japan Tel:043-484-1111
From Keisei Sakura Station
Sakura City Hall is about 10 minutes on foot from the south exit of Keisei Sakura Station.
Keisei Sakura Station, 1001-5 Sakaecho,Sakura City Tel:043-484-0222
From JR Sakura Station
Sakura City Hall is about 25 minutes on foot from the north exit of JR Sakura Station.
JR Sakura Station, 235 Mutsuzaki,Sakura City Tel:043-484-1210
Sakura City is comprised of
Sakura, Usui, Shizu, Chiyoda, Nego, Wada, and Yatomi,
Sakura City is comprised of Sakura, Usui, Shizu, Chiyoda, Nego, Wada and Yatomi. Usui, Shizu and Sakura are residential areas of the city. Nego is both residential and industrial while Wada and Yatomi are considered agricultural areas. Chiyoda which was also formerly an agricultural area has since been turning into a residential area.
HELLO SAKURA(English newsletter)
"City of Peace" Declaration
"City of Peace" Declaration(PDF)
"City of Peace" Declaration(PDF) (PDFファイル: 8.0KB)
この記事に関するお問い合わせ先
[企画政策部]広報課(出版・平和・国際班)
〒285-8501千葉県佐倉市海隣寺町97番地
電話番号:043-484-6101
ファクス:043-486-8720